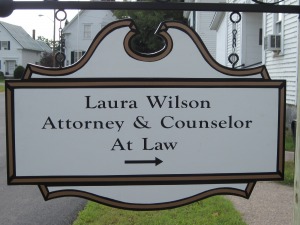 I've opened a law practice in Vermont's Northeast Kingdom. More specifically, I'm located in the NEK's most remote corner:  Essex County.  I've discovered there's something of an untapped need here for affordable and accessible legal services.
That makes me a proud country lawyer. (Although really, any lawyer practicing in Vermont is by definition a country lawyer.  After all, Vermont's total population is still less than 700,000.)
But these days, I like to think of myself as both  rural and urban attorney.  For the last year, I've spent a good share of my time working on state and federal appeals cases, ie: to the Vermont Supreme Court and the 2nd Circuit Court of Appeals, working with Jarvis, McArthur & Williams, a fabulous Burlington area law firm.   You'll often find me traveling from Essex County to Burlington or Montpelier on business.
Being a country lawyer means having a diverse practice.  Although I have a particular passion for criminal defense law and municipal law, these last few months I've also gotten clients ranging from workers injured on farms, families needing estate planning, assistance with the bankruptcy process,  tenant-landlord issues, traffic ticket violation appeals, and even a couple of family law cases.  This keeps me diverse and on my toes, and enables me to meet the broad range of legal needs in a rural area.
One exciting part of having a brand new website is the opportunity to keep it fresh and vibrant by writing about the kinds of legal issues that fascinate me.  From time to time, I'll use this blog to write about interesting and compelling legal matters both here in Vermont and from afar.  For example, look next for a blog entry on the implications of the recent landmark U.S. Supreme Court decision on the constitutionality of GPS tracking devices:  U.S. v. Jones.   I've reflected a lot lately on that decision after writing an appellate brief earlier this year that relied principally on the holding in Jones. As a criminal defense attorney, I'm especially interested in the 4th Amendment and its meaning in an era of increasing technological sophistication.
________________________
Along the way, an enormous number of people have been extremely generous in providing support, encouragement, and advice.  I couldn't possible name all of them, but here are some people I am specifically grateful to for their role in helping me become a practicing trial attorney!
David Williams, Esq., Karen Andreson, David Sleigh, Esq., Corby Gary, Esq., Julie Smith, Linda Penniman, Lisa Warren, Esq., Eugene Levine, Esq., Brooks McArthur, Esq., Earl Fechter, Esq., Brooke Dingledine, Esq., Paul Giuliani, Esq., Rick Bothfeld, Esq., Bob Behrens, Esq., Eric and Elizabeth Miller, Esq., Julianne Woolard, Esq., Clarke Atwell, Esq., Carolyn Greaves, Esq., Brian Ray, Esq.,  Senator and Essex County State's Attorney Vince Illuzzi, Chittenden County State's Attorney Tj Donovan, George Blakeslee, Laura Jean Holland, The Honorable Allen Hodgdon, Alfred and Susan McVetty, Edward Clark, Teri Anderson, Valerie Foy, Assistant Judges John Noble and Calvin Colby, Tim and Leslie Nulty, Sam Swope, Natural Resources Board Chairman Ron Shems, Governor Peter Shumlin and my mother Altina Waller.